Liquid lawn seeder, Spray grass, hydro seeding, and yard maintenance
Liquid lawn seeder, Spray grass Seeding, Lawn Care Services & Erosion Control by Liquid Green Hydroseeding
Discover the captivating landscapes that we have nurtured and transformed for our esteemed clients. With a focus on both commercial and residential landscapes, these stunning photos exemplify the transformative power of hydro seeding. From lush green lawns to vibrant garden beds, each image encapsulates the beauty and success achieved through our professional hydro seeding services.
Whether you're a business owner looking to enhance your property's curb appeal or a homeowner dreaming of a vibrant, sustainable lawn, our Feature Gallery will inspire and ignite your hydro seeding aspirations.
Explore the vast array of possibilities showcased within this gallery, and witness the transformative effects of hydro seeding across various landscapes. Our diverse collection of hydro seeding projects that span a wide range of applications and styles offers an abundance of inspiration for all your hydro seeding needs.  These photos capture the essence of our commitment to excellence and our passion for creating sustainable, healthy, and visually stunning outdoor environments.
Ready to take the next step? Contact us today to discuss your hydro seeding project. Whether you have a specific vision in mind or need guidance in selecting the right approach for your landscape, our dedicated team is here to assist you. Let us bring our expertise to your project, transforming your outdoor space into a natural oasis that will be the envy of all who see it. Don't wait any longer—turn your hydro seeding dreams into a reality today!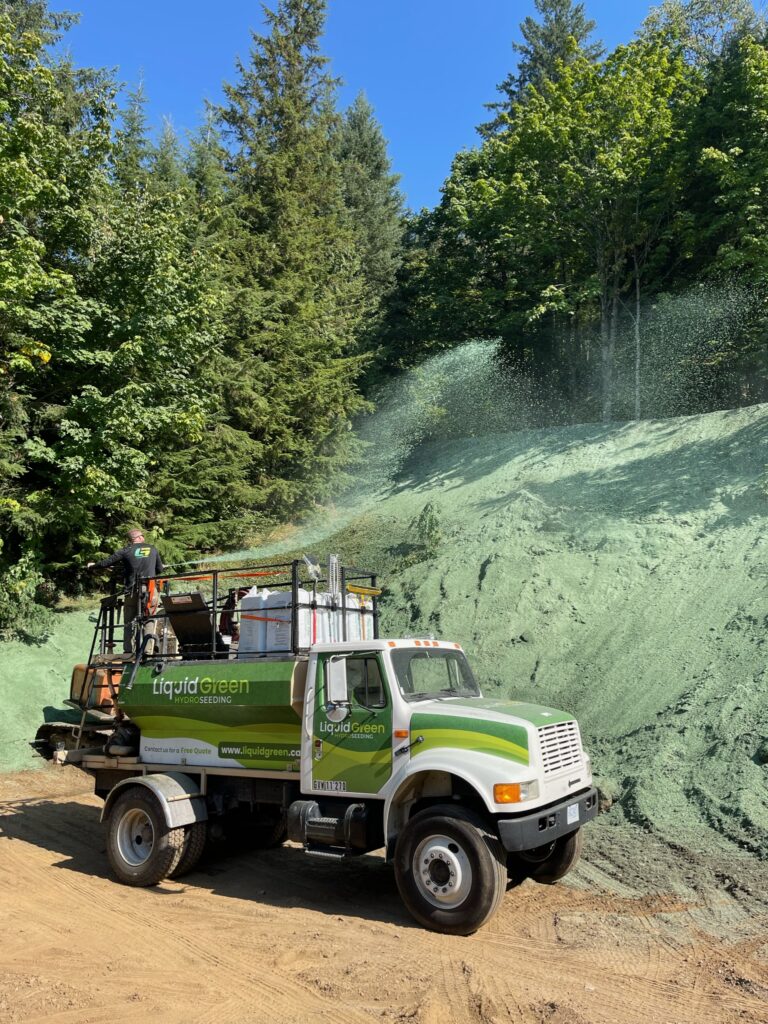 We have a Finn T120 Hydroseeder mounted on an international 4800 4×4 compact semi that can get in almost any space and up grades with up to 200 ft of hose. With the T120, we can spray up to 1/3 of an acre in a single mixed load. 
Learn more about our services and why our Hydroseeder truck can tackle your next job!