Everything about Hydro seeding
If you're looking to learn everything about hydroseeding, lawn services, and spray grass seed, you'll want to check out a blog dedicated to these topics. There are many blogs out there that offer insights and tips on lawn care, but finding one that specializes in hydroseeding and spray grass seed can be a challenge.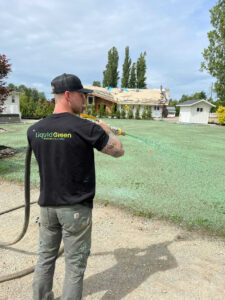 The Ultimate Guide to Transforming Your Landscape Hydroseeding is a revolutionary method to transform your landscape. The concept of hydroseeding, its advantages, the process involved, its various applications, and how it compares to other seeding methods. What is Hydroseeding? Hydroseeding is a seeding technique that involves spraying a specially formulated mixture onto the soil. The
Read More »
A Good Hydro seeding Blog
A good hydro seeding blog should cover everything from the basics of what hydro seeding is and how it works to more advanced topics like seed selection, soil preparation, and equipment maintenance. The blog should also cover related topics like lawn care, landscaping, and irrigation to provide a comprehensive resource for readers.
The benefits of reading a Hydro seeding Blog
One of the benefits of reading a hydro seeding blog is that it can help you stay up-to-date with the latest trends and techniques in the industry. For example, you might learn about new types of seed or fertilizer that can improve the health and appearance of your lawn. You might also discover new methods for irrigation or lawn maintenance that can save you time and money in the long run.
Overall, Liquid Green hydro seeding blog is an excellent resource for anyone interested in improving the health and appearance of their lawn. Whether you're a homeowner looking to improve your curb appeal or a landscaping professional looking to expand your knowledge and skills, a good hydro seeding blog can provide valuable insights and information that can help you achieve your goals.
We have a Finn T120 Hydroseeder mounted on an international 4800 4×4 compact semi that can get in almost any space and up grades with up to 200 ft of hose. With the T120, we can spray up to 1/3 of an acre in a single mixed load. 
Learn more about our services and why our Hydroseeder truck can tackle your next job!